What Year Was It?
Johnson Signs Medicare Into Law
President Johnson signs Medicare into law. At the bill-signing ceremony, which took place at the Truman Library in Independence, Missouri, former President Harry S. Truman was enrolled as Medicare's first beneficiary and received the first Medicare card.
The day was Jul 30. What year was it?
July 30, 2021
Chip Shortage Starting to Hit the Smartphone Industry
A global shortage of computer chips has impacted everything from automobiles to video game consoles. And smartphones are looking like they're next on the list. Semiconductors have been in short supply this year, due to a number of reasons including factory closures resulting from the Covid-19 pandemic and heightened demand for consumer electronics. Automakers have been especially impacted ...
CNBC
Intel: Back on Top by 2025?
Intel has spent the last few years dealing with criticism that it had lost its lead against rivals in the race to put ever more and better performing transistors on each ...
IEEE Spectrum
Demand for Silicon Outstrips Supply
The hits keep coming for the global semiconductor industry that continues to benefit from record-breaking demand across the entire chip ecosystem from IC design ...
EE Times
The Summer Intel Fell Behind
In the summer of 2020 Intel seemed poised for triumph. Then it all went wrong. "To put it briefly: Intel blew it," explains Glenn O'Donnell, a research director ...
The Verge
Is RISC-V The Future?
Is RISC-V the future? This is a question that we often get asked, and let's assume that we mean 'is RISC-V going to be the dominant ISA in the processor market?' This ...
Semiconductor Engineering
Test Your Knowledge

What is the main ingredient in glass?
See answer below.
Quote of the Day

If there's no wind, row.
Anonymous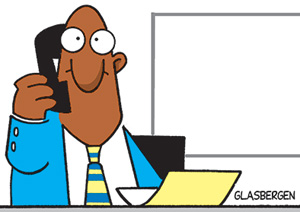 "Thank you for calling Customer Service. To begin an endless and futile series of button pushing, press 1."


Copyright © Randy Glasbergen
Test Your Knowledge Answer

What is the main ingredient in glass?
Answer: Silica, in the form of sand. Only sand of exceptional purity can be used to make glass. If the sand contains a trace of iron, for instance, the glass made with it will have a greenish color.